Exhibition Announcement:
"Temporal and Corporeal: A Broad Scope of Performance Art"
Ohio University Art Gallery
Athens, Ohio
January 23 - March 3, 2018

I am thrilled to have two videos from The Resident series included in the exhibition, Temporal and Corporeal: A Broad Scope of Performance Art, opening at Ohio University next year.
---
Archeology/Ground Nest Project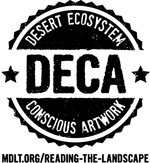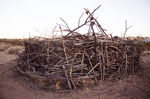 Many thanks to the Mojave Desert land Trust for visiting the site of the Archeology/Ground Nest Project this week. The project was given the Desert Ecosystem Conscious Artwork (DECA) badge to indicate that the artwork was fabricated consciously and that it adheres to their environmental regulations. For more info, visit MLDT and learn about their Reading the Landscape program.

For updates on the project, go

here.
---
Video Screening
December 1st, December 2, 2017
Serial Box Projects, Columbia Missouri
Focus Check, Single-Channel Video. 0:32 seconds. B&W. Ambient audio. 2016.

Continuous looped projection, accessible to the public.

The video will be rear projected onto a plate-glass window in a small building near the University of Missouri for an outdoor audience.
---
---
Collections at Elephant Gallery
Wishbone Scene, 1995. [Excerpt, Single-Channel Video. 4:00 minutes, Color. Sound]

Collections
Elephant Gallery
Opening reception: Friday, May 12 at 6:00pm
Organized by Alex Lockwood
---
Getty Collection
My Mother's Pants. Single-Channel Video. 0:58 seconds. Color. Sound. 1995.
The Getty Research Institute has announced the acquisition of the Joanie 4 Jackie archive, a feminist filmmaking project created by Miranda July and previously archived at Bard College.
---
Various Positions at COOP
COOP GALLERY PRESENTS
Various Positions
– Michael Dickins
– Mary Addison Hackett
– KJ Schumacher

January 7 – JAN. 31, 2017
Opening Reception: Jan 5, 6pm-9pm | COOP Gallery, 507 Hagan St, Nashville, TN 37203

COOP Gallery is proud to present Various Positions, an exhibition of multidisciplinary work by Michael Dickins, Mary Addison Hackett, and KJ Schumacher.
---
Final Friday Podcast Interview
Podcast interview with Greg Swiger over at Final Friday.
"Mary Addison Hackett is a Nashville-based artist who works with video and painting, but also social practice and documentary. We had a great conversation about her practice, chair collection, and more."
---
REVIEW: Seed Space examines art of mending
Review by Sara Estes for The Tennessean
---
REVIEW: Mary Addison Hackett at Seed Space, Nashville
Review by Erica Ciccarone for Burnaway
---
SOLO Show: The Repair Project (And Other Affairs of Just Plain Living) at SEED SPACE
May 7-June 6
The Repair Project (And Other Affairs of Just Plain Living)
SEED SPACE
1201 4th Avenue South
Nashville TN 37210
---
RESIDENCY: Hambidge Creative Residency Fellow
March 29-April 17, 2016
I recently returned from a three-week residency fellowship at Hambidge where I had the gift of time and space to continue editing a documentary short, and produce a suite of new videos works and paintings.
---
---