---
When the Dust Settles at Unpaved Gallery
When the Dust Settles
Curated by Emily Silver


Opening reception: Saturday January 19 3-7pm.




When the dust settles, a moment of clarity arises. The desert is an artist's haven where expansive skies avows creativity. The Mojave Desert has become a pilgrimage for artists coming to pay homage to their practice. This inaugural exhibition is a collection of works created by artists who share the commonality of physical transplantation from a concentrated asphalt grid. Landing amongst the Joshua trees, an epoch moment has begun to germinate.
---
Screening. Palm Springs Dance Festival
MOVING THE MEMORIES, a documentary film I shot and directed for Mil-Tree was selected to screen at the Palm Springs Dance Festival as part of their i

naugural film series. The screening is scheduled for March 9th, 2019 with a brief Q&A.
---
---
ARTIST'S TEA and discussion at Cap Rock, Joshua Tree National Park
Artists Tea and disucssion at Cap Rock, Joshua Tree National Park
9 AM Sunday March 4, 2018

I'll be discussing relationships to place, how living in the desert has deepened my commitment to integrating art and life, and what it means to have a migratory observational practice.

Talk gets underway around 9:30
---
CON - TESTI May-June 2018
RM - LA
CON - TESTI
Opere e Dialoghi
ROMA - LOS ANGELES
Galleria Sinopia, Roma, Italia
May – June 2018
Riccardo Ajossa
Nobushige Akiyama
Marzia Corteggiani
Daniela Costanzo Giorgio
Lucia Pagliuca
Lydia Predominato
Virginia Ryan
Maria Grazia Tata
Justin Randolph Thompson
Steve DeGroodt
Mary Addison Hackett
Nancy Monk
John David OBrien
Steve Roden
Susan Sironi
Joan Weinzettle
---
"Temporal and Corporeal: A Broad Scope of Performance Art" at Ohio University
"Temporal and Corporeal: A Broad Scope of Performance Art"
Ohio University Art Gallery
Athens, Ohio
January 23 - March 3, 2018

I am thrilled to have two videos from The Resident series included in the exhibition, Temporal and Corporeal: A Broad Scope of Performance Art, opening at Ohio University next year.
---
Archeology/Ground Nest Project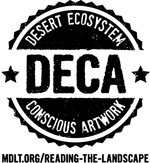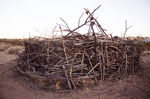 Many thanks to the Mojave Desert land Trust for visiting the site of the Archeology/Ground Nest Project this week. The project was given the Desert Ecosystem Conscious Artwork (DECA) badge to indicate that the artwork was fabricated consciously and that it adheres to their environmental regulations. For more info, visit MLDT and learn about their Reading the Landscape program.

For updates on the project, go

here.
---
Getty acquisition
My Mother's Pants. Single-Channel Video. 0:58 seconds. Color. Sound. 1995.
The Getty Research Institute has announced the acquisition of the Joanie 4 Jackie archive, a feminist filmmaking project created by Miranda July and previously archived at Bard College.
---
Podcast interview with Greg Swiger at Final Friday.
Podcast interview with Greg Swiger over at Final Friday.
"Mary Addison Hackett is a Nashville-based artist who works with video and painting, but also social practice and documentary. We had a great conversation about her practice, chair collection, and more."
---
REVIEW: Seed Space examines art of mending
Review by Sara Estes for The Tennessean
---
REVIEW: Mary Addison Hackett at Seed Space, Nashville
Review by Erica Ciccarone for Burnaway